I was doing a bit of research on James "Jetstream" Smith recently, and stumbled upon this excellent recap of an Oakland Raiders vs. Dallas Texans game from 1960, by author, Bob Gretz.  In the third quarter, Jetstream ran a kick-off return back 98 yards for a touchdown, which helped maintain a Raiders rally, and turn the game around for Oakland.  The full article, and many others devoted to contemporary and historic Chiefs material can be found at www.bobgretz.com.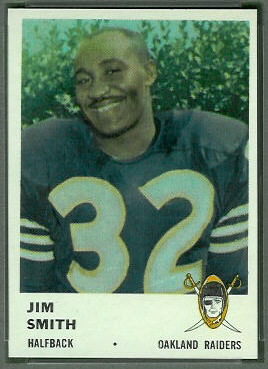 His name was James D. Smith.
It was a perfectly plain and simple name that Jim Smith carried with him from his birth in Los Angeles.
But when he reached the American Football League in 1960 with the Oakland Raiders, nobody called him Jim Smith. He was known by one of the greatest nicknames in pro football history, one he picked up while playing at Compton Junior College.
Jetstream Smith.
A 6-0, 215-pounds running back for the Raiders he set the Dallas Texans on their rears on the afternoon of October 9, 1960 at the Cotton Bowl in Dallas. Jetstream went 98 yards with a kickoff return for a touchdown. It started a scoring splurge that allowed the Raiders to beat the Texans 20-19.
Some 21,000 fans watched a quiet first half, where the only score of the game was an 80-yard interception return for a touchdown by Texans S David Webster. About four minutes before half-time, Webster grabbed the pass of Oakland QB Tom Flores that bounced off receiver Billy Lott and ran untouched for the score.
On the opening kickoff of the second half, that's when Jetstream made his big splash.
Jack Spikes was the Texans kicker, but he was injured and Curley Dickinson booted the ball down to the two-yard line. Jetstream took the return up the middle for 20 yards, then cut to his left and ran through numerous arm tackles by the Texans. Only Johnson had a shot at him, but his diving tackle at the Dallas 45-yard line came up with nothing but air.
Jetstream's TD and the PAT kick tied the score and the Raiders never trailed again.
"They stunned us with the kickoff to being the second half and we never regained our balance," Hank Stram told reporters after the game.
Jetstream gave credit for his return to all the guys ahead of him. "Our blocking was real good," Smith said in the Raiders locker room. "We wanted this one because Dallas lucked out on us before. No, they didn't luck out, but we thought we should have won."
He was speaking of the first game between the teams won by Dallas 34-16.
The Texans got two late touchdowns to make the game close, as Bo Dickinson scored from the one-yard line and QB Cotton Davidson and WR Max Boydston combined on a six-yard TD pass with 2 minutes, 30 seconds to play.
Down by one point, Stram decided to go for two points and the victory. Dickinson's run over the right side ended a yard short of the end zone and the Texans record went to 2-3 on the season.
Jetstream played that '60 season with the Raiders, appearing in all 14 games with 781 all-purpose yards and eight touchdowns, none bigger than the 98-yard return against the Texans. He played three games with the Chicago Bears in 1961 and then disappeared from pro football.
GAME #5 RECAP/1960
Opponent: Oakland Raiders.
Site: Cotton Bowl, crowd estimated at 21,000.
Score: 20-19 Raiders.
Texans Leading Rusher: Abner Haynes, 15 carries for 89 yards.
Texans Leading Receiver: Chris Burford, five catches for 99 yards.
Texans Leading Passer:  Cotton Davidson, 13 of 31 for 166 yards, 1 TD, 3 INT.
Texans Punter: Davidson six punts, 231 yards, 38.5-yard average.
SCORING SUMMARY
2Q – Dallas – D.Webster 80-yard interception return for TD. J.Spikes PAT kick.
3Q – Oakland  – J. Smith 98-yard  kickoff return for TD. L. Barnes PAT kick.
3Q – Oakland – A. Goldstein 16-yard TD pass from RB T. Teresa. Barnes PAT kick.
3Q – Oakland – Goldstein 16-yard TD run. PAT kick blocked.
4Q – Dallas – B. Dickinson, 1-yard TD run. PAT kick failed.
4Q – Dallas – M. Boydston 6-yard TD pass from C. Davidson. PAT run failed.
| | | |
| --- | --- | --- |
| | Raiders | Texans |
| First Downs | 15 | 19 |
| Total Yards | 286 | 292 |
| Rushing Yards | 101 | 126 |
| Net Passing Yards | 185 | 166 |
| Att-Comp-Int | 27/14/1 | 31/13/3 |
| Punts/Avg Yds. | 7/39.4 | 6/38.5 |
| Penalties/Yards | 4/39 | 5/45 |
| Fumbles/Lost | 3/1 | 2/1 |